Offseason Additions 2011: Part 1
01-18-2011, 11:27 AM
Post: #1
Offseason Additions 2011: Part 1
Right, I'm at work and well frankly bored off stiff. So I figure now is around the time for me to start making some more valuable contributions to this board. Offseason Additions is where we I will source information I can on the top prospects for our needs going forwards into the coming offseason. The intention here is to help us all get into the know of who to look out for on the market and who may be good value for the Falcons and their needs from certain positions.
To kick things off let's start with
Free Agent Wide Receivers
It is no secret that the Falcons offense needs another threat or 2 in the receiving group, the bunch we have looks depleted when once you get past Roddy, and depending on how you look at it Jenkins as well. Part of this team moving forwards and consolidating their stellar work from this years season is going to be making their aerial assault more threatening.
The Falcons can do this one of two ways; either through the draft which may well suit this teams FO approach (of a combination of veteran talent with youthful infusion), or they can do this in this years free agency, where in my opinion there are a host of young and potent receiving threats who we would be able to get more out of sooner than any player in the draft we are likely to be in position to draft as it currently stands.
If the team does go looking to upgrade the receiver position with a big acquisition of either kind, I believe the main factor will be the value for money aspect. This team has cap room but we need to spend some of that on keeping players we already have. Bringing home an upper echelon FA receiver, the team will likely have to pay somewhere between Jenkins and Roddy money depending on who it is and the demand for them in the market. However for a proven commodity the price tag may be worth it for the right guy. If the team goes receiver in the 1st round, there is the opportunity to pick up players who can contribute substantially immediately, and develop to be number 2 receivers if not number 1. where we are positioned to pick right now. I think these players will cost less than the majority of young upper tier free agents will be looking for. This is where our team benefits as although he has made some errors with mid round picks TD's 1st and 2nd round picks for us have been good for the most part, even his mid to late round picks have contributed or will be contributing to our team as starters.
Let us now turn our attention to the top FA players at wE
Vincent Jackson (SD) – The Chargers still have a lot of progress to be made in retaining their own players. Philip Rivers found great success even without his big name receivers earlier in the year, which seems to make Vincent Jackson more expendable. Coach Norv Turner has paid complements to his star receiver, saying he's a better player this year than he was last, which sends a message to the front office that they shouldn't hesitate to bring him back in 2011 and onward.
Skill wise VJ would be a tremendous boost to this team. We know that their FO has brain farted a lot in this situation and to me it seems likely Jackson will at the very least stick his finger in some pies and see if any are hotter than what's being served in San Diego. I don't think he will be a player we make an offer to. The money we have needs to be spread around between retaining players that deserve to paid, acquiring FA's sensibly and our draft acquisitions. Another reason we may not take a shot at VJ is the Falcons Filter; I believe the team has the stability and infrastructure to ease off on the filter and bring in players who have blips in their character, especially when they are not serious infractions and they are still young. However, they way VJ held out may put the FO off of him.
Sidney Rice (MIN) – Coming back from a pretty serious hip injury, Rice continued to impress with his athletic ability and added to his highlight reel. His per game numbers didn't mimic his dominant 2009 season, but that's expected with lesser quarterback and offensive line play. Rice figures to play a large role in the organization's future, making his re-signing every bit the priority of finding a playoff-caliber quarterback.
A high caliber performer who showcased well in the return from his injury. Similar to the case with VJ, getting Rice comes at a price and if one could argue that getting 2 good players at different positions for the price of a potential great at one position is better value for money. We are not a team adverse to picking up an injured player if they test well in physicals and have been seen to play since their injury. e.g. Dunta Robinson. I think the team that has the final say will be the Vikings, they want Sydney around. I seriously doubt he sees the market.
Santonio Holmes (NYJ) – Aside from the "character concerns," the Steelers were quick to send Holmes packing to the highest bidder because of the expected cost in retaining Holmes this offseason. Now that decision will fall squarely on the shoulder of the Jets. Holmes is the best receiver in a very talented corps. He's a good route runner and is known to come up big late in games. If the Jets have to choose only one of their two big name receivers, you'd have to think it would Holmes, who has the most targets and receptions on the team since week 5.
Again Holmes would be the sort of addition to the Falcons that would instantly invigorate our passing game with the sort of threat that plays well to Matt's quick release and ability to read Defenses and make good throws. Yes the character concerns are an issue but in all reality I think our team be the sort of place where locker room and coaching staff support go a long way to helping a player settle. Money however talks, and in Santonio's case one the Jets front up to keep him over Braylon and 2 I don't see us paying for 2 number 1's. We can get similar talent in the draft for less than it will cost to get Santonio now. e.g. Michael Floyd (if we are sticking with the theme of getting an explosive receiver who gets separation)
Braylon Edwards (NYJ) – Edwards has been the big play threat on an offense that is most explosive when the running game opens up the playaction to him down the field. Of the Jets' star free agents this offseason, Edwards is the most likely to be let go though.
As the report says, he is the odd one out in NY. He is a big play threat but for some reason as though he just is not a fit for this team. His drops count and going forwards we need someone who is not going to present a liability when we need them. Especially when you consider that Braylon will be looking to get paid. There are free agents who cost less who can provide similar and not be as much of a conundrum for the Falcons.
Malcom Floyd (SD) – Floyd was given the highest tender last offseason and proved worthy of the contract in the games he played. After Philip Rivers' performance in the absence of both Floyd and Jackson, the Chargers may decide to only keep one of the two and trade the other to make improvements elsewhere (maybe a new special teams coach). Floyd is a tall, athletic downfield threat with the body control to become a number one receiver in the league.
I like this guy a lot, and I think he would be great for the Falcons. However if we are going to spend good money on a receiver I feel as though they need to be younger than 30 by the time the play their first game for us. For that alone I think we pass, as whilst we are in need of players on our Offense, we are not desperate for a number one type receiver who is this ripe.
Steve Smith (NYG) – Smith was the perfect slot receiver for the Giants' terrific threesome and was on his way to his second consecutive 1000-yard season before an injury derailed him in the middle of the year and leaves the start of his 2011 season in jeopardy. The Giants will know his situation best and are therefore the frontrunners for Steve Smith.
We need more efficiency out of the slot, and in many ways Steve Smith fits that definition very well. A guy that can be used to attack the middle of the field alongside a TE would be very nice, and something I think our team needs going forwards. Smith's injury was indeed brutal and so it is more likely that fewer teams come knocking at his door with a lot of money. I also do not think the Falcons spend the money they could spend elsewhere on a player who they really don't know which version they are getting.
Terrell Owens (CIN) – It looks like the mouth on this man is directly correlated with his performance. The minute he starts putting up some decent numbers, he begins sharing his nonsense again. Production for the 37 year old TO surprised many this season, but by late season, he began blaming the coaching staff for its' offensive struggles which many have reported will keep the Bengals from bringing him back. If he can find a new home next year, it would be his 6th different team in 9 seasons. He's burned plenty of bridges and already had plenty of difficulty finding a team last offseason and no team has proven to be more kind to players looking for another chance than the Bengals. Given the talented receiver free agent class, I have a feeling this could have been the last season from TO in the NFL.

Randy Moss (TEN) – No one predicted this 2010 season for Moss. Just as loudly as he entered the league over a decade ago, he seems to be going away just as quietly. The Titans placed the only waiver claim on Moss who was released after a catering incident in Minnesota. Like TO, has he burned too many bridges too? If there's any team that can light a fuse in Moss, it's his old Patriots, but do they want the headache? Brady certainly doesn't seem to need the help anyway.

Both could be had at a good price, lets face it right now they are not in a position to make demands on the market. There is too much younger and less complicated talent ahead of them, especially Randy Moss. I do not think the Falcons go with either of these guys, we are not in a desperate bind where its now or never for this team, we are in a position to make runs into the playoffs for a good few seasons. What we need are difference makers who are going to be around. There is no point in putting money into guys who are not going to be around for long enough to make a long term difference to our team.
Mike Williams (SEA) – Is there anyone out there—Lions fans excluded—that didn't love to see Mike Williams playing some good football for his old college coach? Let's keep it simple, he's staying in Seattle.
Seattle are building, and unfortunately this version of Seattle isn't like the one on Madden where players on their roster always seem to hit FA. Williams is part of the future there. I think it is the best circumstance for his career, and unless someone is willing to offer him more than he is really worth considering the difficult times he has had he will be a Seahawk for a few more years
James Jones (GB) – Will the Packers be willing to pay Jones like a starting receiver? If not, he may be one of the first ones out of Green Bay if he becomes an unrestricted free agent. He's as talented as any number of starting wideouts and has shown flashes that he could be just that. He has a knack of dropping passes here and there, but aside from that, James Jones is a complete receiver who can run the entire tree.
It may seem a bit bittersweet, but of the FA's available should the Falcons really go after someone it could be one of the Packers who knocked us out of the playoffs last weekend. The dropsies are an eyebrow raiser indeed. But if you are looking for strong consummate route runners who are big and fast. You might not find many better than Jones in this FA market. I think he would be a great option that could make a number 2 in our offense and if we really looked to open things up, he could even provide as a 1b.
Steve Breaston (ARI) – The Cardinals know the health of Breaston's knee better than any other teams. If it checks out clean, they also know his abilities better than anyone else. He's a breakout star in the making and would form a formidable duo with Larry Fitzgerald if the team could get their quarterback situation untangled.
A healthy Breaston is to the Cardinals and Fitz what Harvin is to the Vikings and Sidney. A very strong option going forwards that really would be foolish for a team to let go. If the Cardinals are serious about coming back into the picture in the NFC. They need to keep him around as a proper pairing with Fitz. A competent quarterback who comes to this team with these weapons to play with will be adequately occupied.
These are the big name receivers n this years Free Agency, but there are some others who if our FO are really looking to hunt out bargains on may prick their interest, these are:
Early Doucet (ARZ) - On IR with Hip injury. Young and a somewhat potent receiver. If we are looking at players that can at least instantly surpass HD at the start of the season I do not think he is it.
Brian Finneran (ATL) - One of our own and dead proud of it. I think Finn hangs them up this year. He loves this team and it hurts me to say it but we can do more without him than with him.
Donte' Stallworth (BAL) I think Baltimore will look to keep at least some consistency around Flacco this year, meaning at least one of these two will be retained. I do not think the Falcons will be interested in the odd man out here though
TJ Houshmandzadeh (BAL) See Above
Rashied Davis (CHI) A bit too ripe for any serious consideration for our forward looking franchise. I really believe any receiver we bring in will be younger than Jenkins and Roddy at the least. We do not lack veteran leadership. In terms of his talent I don't think he is a player we need or want.
Jacoby Jones (HOU) - Character concerns really shouldn't be an issue (RE: DWI) I would think this would be a gem of an acquisition. However the CBA complications that affect him as well as other young receivers may just save Houston from losing him, that is if they want him. Andre Johnson's contract is big money and they may not have the room to keep him. If you are looking for a player that could supplant HD in the slot, this would be the guy.
Mike Sims-Walker (JAC)
Kevin Curtis (MIA)
Hank Baskett (MIN)
Greg Lewis (MIN)
Lance Moore (NO)
Courtney Roby (NO)
Derek Hagan (NYG)
Darius Reynaud (NYG)
Brad Smith (NYJ)
Johnnie Lee Higgins (OAK)
Legedu Naanee (SD)
Ben Obomanu (SEA)
Laurent Robinson (STL)
Danny Amendola (STL)
Mark Clayton (STL)
Maurice Stovall (TB)
Santana Moss (WAS)
That's it from me till next time. I quite enjoyed researching and writing this. I hope it will be of some use to you.
Next Up: Defensive Ends
01-18-2011, 01:41 PM
Post: #2
RE: Offseason Additions 2011: Part 1
People don't want Asomugha because that would be too much money tied up at corner but another big-time receiver would do the same to the wr position
---

01-18-2011, 01:56 PM
(This post was last modified: 01-18-2011 02:13 PM by Midwest Falcon.)
Post: #3
RE: Offseason Additions 2011: Part 1
Out of all of those WR's I like Steve Smith the best. He is a beast in the slot. If Tony G comes back with Roddy & Steve Smith, our passing game would be pretty solid. Now how much would we have to pay him?

BTW I love the thread....keep it up!
---

01-18-2011, 02:55 PM
Post: #4
RE: Offseason Additions 2011: Part 1
(01-18-2011 01:41 PM)

MalteseFalcon1994 Wrote: People don't want Asomugha because that would be too much money tied up at corner but another big-time receiver would do the same to the wr position
True but a big time receiver would help the offense more than abc would help the defense, especially as it relates to scoring or giving up points.
01-18-2011, 04:33 PM
Post: #5
RE: Offseason Additions 2011: Part 1
I would kill for Lance Moore. I hope he becomes available
---

01-18-2011, 04:46 PM
Post: #6
AsylumGuido
Resident Saints Fan


Posts: 3,225
Joined: Dec 2010
Reputation: 33
RE: Offseason Additions 2011: Part 1
(01-18-2011 04:33 PM)

MalteseFalcon1994 Wrote: I would kill for Lance Moore. I hope he becomes available
I wouldn't count on it. I expect that Moore will be one of the top priorities to re-sign. LT Jermon Bushrod, SS Roman Harper, RB Pierre Thomas and TE David Thomas will be the others. I expect Shockey to move on and Reggie Bush to restructure his deal down from $11 million to a more reasonable $3 to $4 million range.
---
Saints Fan Since 1967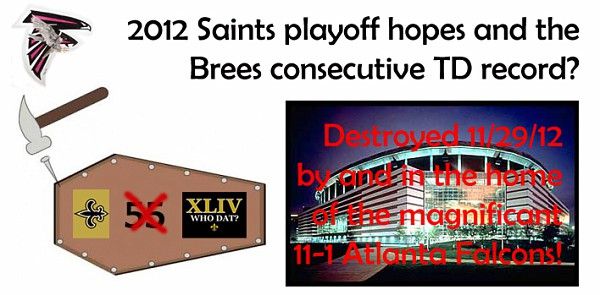 01-19-2011, 08:36 PM
Post: #7
TonyGraziani
The Sith Lord of the Atlanta Falcons


Posts: 1,348
Joined: Sep 2010
Reputation: 26
RE: Offseason Additions 2011: Part 1
(01-18-2011 04:33 PM)

MalteseFalcon1994 Wrote: I would kill Lance Moore. I hope a hitman becomes available
fixed.
---
"The Lord say in your heart you should bare no hate/ But I flip the world a Dirty Bird, I aint no saint"- Kaedus
01-19-2011, 08:57 PM
Post: #8
Paulitik
Riser Upper


Posts: 7,814
Joined: Sep 2010
Reputation: 36
RE: Offseason Additions 2011: Part 1
I like Jackson or Floyd. Push Jenks back to 3 or 4.
---
http://www.youtube.com/watch?v=_3CXS04cy...re=related
01-19-2011, 09:24 PM
(This post was last modified: 01-19-2011 09:24 PM by Midwest Falcon.)
Post: #9
RE: Offseason Additions 2011: Part 1
(01-19-2011 08:57 PM)

Paulitik Wrote: I like Jackson or Floyd. Push Jenks back to 3 or 4.
Here's my problem with Jackson and Floyd. They are "Deep Ball" guys. The Chargers also have Gates which took away a safety all the time. We have Roddy who can stretch the field already. Why not find his compliment WR?
Or we could just get Floyd/Vjack and throw fades all day
---

01-20-2011, 03:44 AM
Post: #10
evo
Datz_Evo


Posts: 615
Joined: Sep 2010
Reputation: 11
RE: Offseason Additions 2011: Part 1
Think of it like this ...

We already have Roddy as our #1 reciever, Micheal Jenkins as #2... now we need an upgrade from our Slot Reciever cause HD is just not cutting it.

Thats when Steve Smith from the Giants comes in perfectly. IF we can land him at the right price then i'm all for it. But if not then i rather spend that money on building the Defense and spend our draft picks on RB and WR.
---