11-25-2011, 12:43 AM
Post: #1
Vick Vindication
Heard a commercial during tonight's game, a promo for a segment on Sunday, "Did the Eagles Pay Too Much For Vick?"

Not getting what they paid for eh? I figure now that it's hit the mainstream media it's safe to say that many of us are vindicated. I remember some arguments a few months ago about MVP bs, when most of us said what you'll get with Vick is inconsistency, (ultimately) dashed hopes with some injuries sprinkled in for good measure. I remember saying that last year will be known as his best year which I still believe to be true.

This is why I was thrilled with Philly for giving him that contract. For better or (hopefully) worse, they are locked together for a while.
11-25-2011, 01:23 AM
Post: #2
phocis850
Administrator


Posts: 5,433
Joined: Sep 2010
Reputation: 42
RE: Vick Vindication
He would have accepted half that amount.

Not our problem.
---

11-25-2011, 11:41 AM
Post: #3
illmusic
Posting Freak


Posts: 975
Joined: Dec 2010
Reputation: 19
RE: Vick Vindication
people, post vick falcon fans included, really give that man way too much power...
11-25-2011, 12:51 PM
(This post was last modified: 11-25-2011 12:51 PM by AsylumGuido.)
Post: #4
AsylumGuido
Resident Saints Fan


Posts: 3,225
Joined: Dec 2010
Reputation: 33
RE: Vick Vindication
I always thought that Vick was over-valued. Early on the Saints figured him out. I remember telling my wife when we heard the news that he was definitely gone that this could be bad for the Saints because Atlanta may actually go out and get a really good QB to replace him.
Fortunately, y'all were only able to get Ryan.
---
Saints Fan Since 1967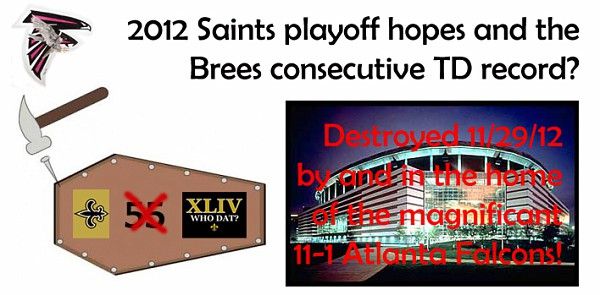 11-25-2011, 01:11 PM
Post: #5
RE: Vick Vindication
Weak, in fact that might just be Phalcon Phil level of dumb