05-09-2012, 05:25 PM
Post: #21
ATLBound
Posting Freak


Posts: 1,609
Joined: Sep 2010
Reputation: 27
RE: Saints Bounty Thread
(05-09-2012 05:17 PM)

AsylumGuido Wrote: The declaration does not confirm that any Saints player either paid money or collected money to intentionally injure another player. You can interpret what it could imply, but it is not evidence at all that any Saints player either paid money or collected money to intentionally injure another player. That is what the players are accused of doing. More and more people beyond Saints fans are wanting the ironclad proof that the league claimed to have. Personally, I believe we have already seen what they deemed to be that proof.
Understand that I am not the only one interpreting it this way.
Your own interim head coach Joe Vitt obviously interpreted the way I did because he provided a statement in regards to Hargrove lieing. It's sure os a lot of covering up here and there for something that never happened.
"If we all stay on the same page, then this will all blow over."
It appears at this point eveeybody is NOT on the same page hence the reason it is not blowing over.
Some people are obviously TRYING to stay on the same page but when you have one defect, then they all are going to come down. It's just a matter of time.
05-09-2012, 05:25 PM
Post: #22
AsylumGuido
Resident Saints Fan


Posts: 3,226
Joined: Dec 2010
Reputation: 33
RE: Saints Bounty Thread
New Orleans Saints and Bountygate: Give Up the Goods, Goodell
Who Dat Nation, I would say that you have waited long enough.
Everyone is thinking the same thing: Hey, Roger Goodell—give up the goods!
I, mean, this is America, right? Usually the person that gets reprimanded is informed of his rights and told of his crimes. After that usually comes the presentation of evidence and the verdict, right? (I'm no law expert, but I did watch Law and Order at a Holiday Inn Express last night.)
So, why isn't the same process being followed in this bounty scandal—or, for that matter, in any punishment that Goodell hands out?
In the new CBA, Goodell fought hard to keep his "final say" on punishments and appeals. In fact, that was one of the sticking points that was haggled over in the waning hours of the lockout. Goodell got his wish, and now it looks like that little addendum will disrupt labor peace not even a year into the agreement.
Goodell is hiding the truth like the U.S. government kept Bin Laden's body concealed. Eventually, the government buried that problem at sea, but it's going to be harder for Goodell to try and "sink" this problem.
Cris Carter has come out recently and stated that there were bounties when he played in the league. He also claims that he put "some change" on players for "protection." He excuses this past behavior by claiming that he was doing it to keep himself and his family out of harm's way.
Well, if that's so, Cris, you would be great counsel for someone who hired a hit man to kill someone. "Just say you were protecting yourself."
In the wake of Carter's "glowing" look into the bounty world, circa 1993, former Saints DL Anthony Hargrove has alleged in a declaration that he was forced to lie about a bounty program he says was conducted by then-Saints defensive coordinator Gregg Williams and current interim coach Joe Vitt.
Vitt has vehemently denied this and other bounty-related allegations. While acknowledging a "pay-for-performance" program (the label given to a program that was used to reward players for big plays, hits, etc.), Vitt has denied that Saints players crossed the "white lines with intention to maim".
Even with Hargrove's declaration, Goodell only has hearsay: bitter ex-Saints employees and one certain videographer who threw a rock at the team in the form of an audio recording that was released without proper consent.
Yes, the audio has some graphic revelations, but—to any player who has been in a locker room—Williams' comments were commonplace (give or take some terminology).
We live in a politically correct society, but still we are quick to persecute people in the court of public opinion. With social media how it is these days, this court is even louder today.
That leaves people wanting action now and leaves the "plantiffs" asking why. What proof do you have? Well, Goodell, I know one "nation" that would love to see the proof and the money trail. The people of that nation reside in New Orleans.
P.S. Have fun at the Black-and-Gold Super Bowl next February, Roger.
---
Saints Fan Since 1967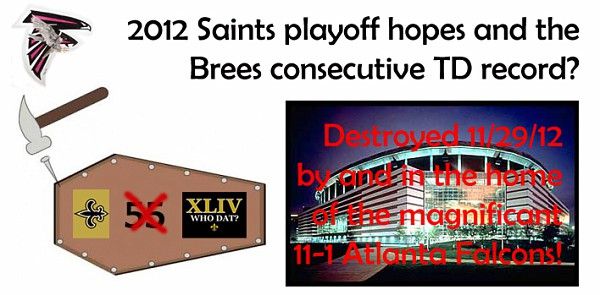 05-09-2012, 05:29 PM
(This post was last modified: 05-09-2012 05:31 PM by ATLBound.)
Post: #23
ATLBound
Posting Freak


Posts: 1,609
Joined: Sep 2010
Reputation: 27
RE: Saints Bounty Thread
It doesn't help to post EXTREMELY biased articles from the "Saints Nation." This is not my idea of informative. The p.s. at the end of the article says it all.

Secondly, I agree that the evidence should be shown to the accused, but the "nation" of New Orleans don't really deserve a thing and neither do I.
05-09-2012, 05:30 PM
Post: #24
AsylumGuido
Resident Saints Fan


Posts: 3,226
Joined: Dec 2010
Reputation: 33
RE: Saints Bounty Thread
Vilma's lawyer calls NFL process "a kangaroo court"
"The fact that we haven't received a single piece of evidence from the Commissioner not only makes the whole process suspect but made it important that we ask the Commissioner as specifically as we possibly could what we think we should be able to see in order to even the playing field and in order to give Jonathan a fair hearing," Ginsberg said, via Nakia Hogan of the New Orleans Times-Picayune. "And I must say that the Commissioner still hasn't responded to this most recent request. This is not the first time we have asked them for the evidence."
Ginberg also criticized the the league's public comments regarding the situation.
"[A]s we have seen in the press the last few days that the Commissioner's office and the Commissioner's outside counsel have discernibly misrepresented even the information that the Commissioner has gathered," Ginsberg said. "When you put that in the context of the Commissioner's high-priced outside counsel saying that when we asked for evidence and when we wanted to know what we were answering to — and this is [outside counsel Mary Jo White's] quote 'a red herring,' it really puts into perspective the kangaroo court that Jonathan and the others have been subjected to.
"I can't think of any other forum in the United States where this kind of abusive process is permitted. If you want to ask me why it is permitted, you are asking the wrong person. I wasn't a part of the CBA negotiations. And I don't think that the CBA as it stands permits this kind of abusive process."
Ginsberg also reiterated his position (predictable as it may be) that Vilma is innocent of the charges. "What the Commissioner has said publicly, the accusations and allegations against Jonathan are not true," Ginsberg said. "They are simply not accurate. . . . The evidence is not what the commissioner says it is," he said. "At the end of the day, I think all of you will come to the conclusion that what the Commissioner has been accusing Jonathan and the others of doing is not correct. It's not accurate. It was said publicly in an irresponsible manner. I think that's why we haven't received the evidence. And I think that's the Commissioner's biggest fear that at some point we will find the right forum that will make the Commissioner answer for what he's said and what he's done."
The fact that the league has continued to refuse to produce raw evidence of guilt despite mounting questions as to its validity and/or existence will serve only to increase suspicion that the evidence isn't what the league thinks it is — or that the evidence simply isn't there. Amid growing indications that the coaches primarily were nailed for maintaining an illegal pay-for-performance program and lying about its existence but that there may not have been hard evidence of a bounty program, it's critical that the league put some of its cards on the table.

With each passing day that the league fails to do that, the suspicion will only intensify.
---
Saints Fan Since 1967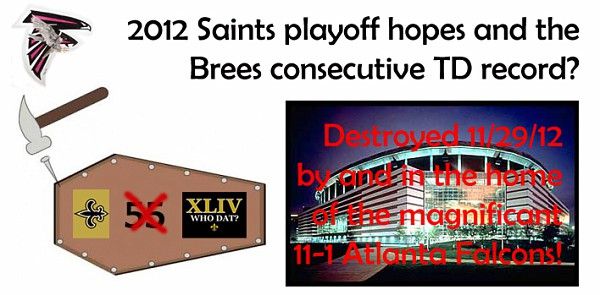 05-09-2012, 05:32 PM
Post: #25
AsylumGuido
Resident Saints Fan


Posts: 3,226
Joined: Dec 2010
Reputation: 33
RE: Saints Bounty Thread
(05-09-2012 05:29 PM)

ATLBound Wrote: It doesn't help to post EXTREMELY biased articles from the "Saints Nation." This is not my idea of informative. The p.s. at the end of the article says it all.
I'm posting all articles I find. Yes, many will come from Saints supporters. Others, like the last posting from Florio of NBC Sports, are neutral but say the same thing. I will also be posting any anti Saints commentary I come across.
---
Saints Fan Since 1967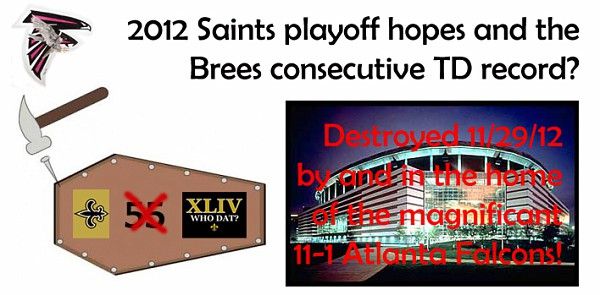 05-09-2012, 05:41 PM
Post: #26
AsylumGuido
Resident Saints Fan


Posts: 3,226
Joined: Dec 2010
Reputation: 33
RE: Saints Bounty Thread
Here is an interesting related story from the Times-Picayune by Jeff Duncan.
New York Giants, Jets have flirted with behavior that comes close to imperiling player safety
The semantic hinge on which the case against the Saints swings - between "pay for performance" and "bounty" - has taken on a geographic dimension, too, as the pushback against player discipline mounts. Both New York professional football franchises, including the Super Bowl champion New York Giants, have flirted with behavior that appears to veer dangerously close to imperiling player safety.
York Jets Coach Rex Ryan wrote in his 2010 book that the Jets put 'dots' on players they wanted to knock out of the game.
It is that sacrosanct theme, given the growing caseload of lawsuits filed against the NFL by former players alleging indifferent attention to health issues, that drove Commissioner Roger Goodell to mete out severe punishments to New Orleans, including a full season suspension without pay for Coach Sean Payton and linebacker Jonathan Vilma.
In the case of the Giants and Jets, however, there was no league discipline.
...
he first case involves the Giants and it closely dovetails the Saints on the timeline. One week after the Saints lost to the 49ers in a divisional playoff game that was preceded by former defensive coordinator Gregg Williams now-infamous pre-game speech to the defense, the Giants beat San Francisco in the NFC championship game.
That conference title game turned on a fumbled punt in overtime, and afterward some Giants special teams players said the turnover was a dividend they actively sought. 49ers backup return man Kyle Williams has suffered concussions - the injury at the very heart of much of the growing litigation the NFL faces - and he wound up muffing one punt return and then making the critical fumble.
After the game, Giants rookie linebacker Jacquian Williams said,
"the thing is, we knew he had four concussions so that was our biggest thing, to take him out of the game."
Devin Thomas, who recovered Williams' miscues, echoed that theme.
"He's had a lot of concussions," Thomas said.
"We were just like, 'we've got to put a hit on that guy.'"
Although there is no financial element to the Giants gameplan - a component of the Saints' scheme that also runs afoul of NFL rules and its collective bargaining agreement - the sentiments expressed by the Giants players dovetail with those voiced by Gregg Williams in the pre-playoff tape and, to a less explicit extent, with what former Saints players like safety Darren Sharper have said went on with the Saints. Vilma, Saints defensive end Will Smith, and interim Coach Joe Vitt, who will serve a six-game suspension when the regular season begins, have in their public comments also tried to draw a line between football's inherent violence and solicited viciousness. In his first press conference as acting head coach, Vitt made it clear he regretted some of the language employed in Saints meeting rooms, but vigorously denied he ever coached or encouraged a player to deliberately hurt an opponent.
...
The case of the Jets predates the Saints' bounty scandal, but it has been given new life in a post by Mike Florio on ProFootballTalk last Sunday night. Florio cited a passage from "Play Like You Mean It," a 2010 book by Jets Coach Rex Ryan:
"Each game we might also designate an opposing player with a dot," Ryan wrote in a chapter entitled, 'Blunt Force Trauma.' "Players don't want to be dotted by the New York Jets, because

that means we want that dude knocked out of the game.
Of course, it has to be legal and by the book. We don't play dirty, and no way will we intentionally hurt a player with an illegal, cheap shot. We dot players fair and square. There are players out there who think they are badasses, and you just might see two of our players knock the hell out of him. Pow! Pow! That's our mentality. Everything we do is aggressive and, hey, we may make a mistake, but we will go one hundred miles per hour and we will knock the hell out of you. Big hits create turnovers. You haven't been Punked -- you've been Dotted!"
---
Saints Fan Since 1967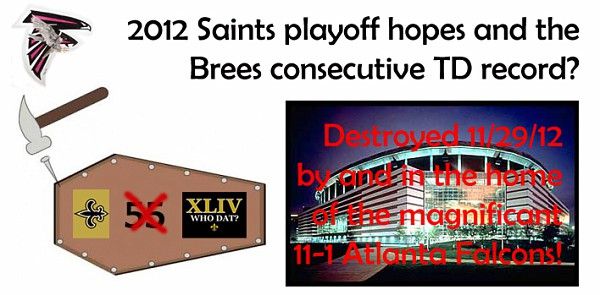 05-09-2012, 05:48 PM
Post: #27
AsylumGuido
Resident Saints Fan


Posts: 3,226
Joined: Dec 2010
Reputation: 33
RE: Saints Bounty Thread
Another from Florio at NBC Sports. Don't forget that early on Florio was one of the biggest protagonists of the Saints on the alleged bounty issue.
NFLPA president: "Punishment demands evidence"
The NFL continues to decline to provide hard, direct evidence of the bounty allegations that fueled the suspensions of four players. The NFLPA continues to call for such evidence.
"Punishment demands evidence," NFLPA president Domonique Foxworth writes in an item for USA Today. Foxworth reiterates that the league has yet to provide "specific, detailed evidence of player involvement in a pay-to-injure program."
As we understand it, the NFL has provided only the March 2 report of NFL Security, the March 21 announcement of penalties against the Saints and various non-players, and a 20-slide Power Point presentation that was shown but not given to NFLPA representatives at a meeting in New York.
"Instead of transparent and fair due process for the four suspended players, the NFL chose news media leaks, character assassinations, PR campaigns and legal manipulation to mislead the public," Foxworth writes.
Foxworth also takes issue with the suggestion that the NFLPA is protecting wrongdoers at the expense of those who were targeted.
"Over the years, it has been the players who've fought the league to make changes to the prevailing attitudes about health and safety in football," Foxworth writes. "We led the change in the way concussions are addressed; successfully opposed 18-game seasons; demanded a change in the NFL's leadership on brain trauma research and prevention; created new benefits for cognitive injury; shortened and limited contact in practices; created a better injury protection benefit and a $100 million health and safety research fund. We continue to fight the NFL in 500 workers compensation cases."
In this specific case, the NFLPA has every right to demand the raw evidence on which the league's conclusions have been based.
To this day, no evidence has been produced to demonstrate that a player received money for inflicting injury or paid money to induce another player to do so.
If that evidence exists, let's see it.
With each passing day that the evidence isn't disclosed,

suspicions will grow that the evidence just doesn't exist.
---
Saints Fan Since 1967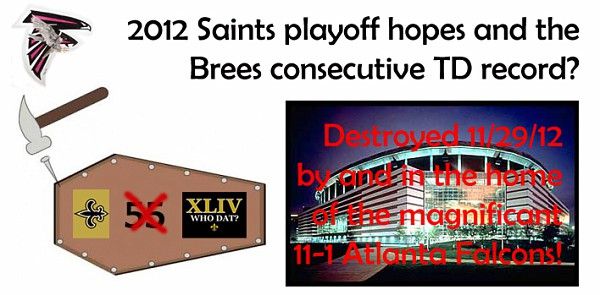 05-09-2012, 06:31 PM
Post: #28
RockHoward
Senior Member


Posts: 357
Joined: Sep 2010
Reputation: 4
RE: Saints Bounty Thread
I am not a big Ed Werder fan at all, but recently he said on SportsCenter that a Saints source he spoke to said "The leagues findings are exaggerated. In contrast to the leagues contention the Saints bounty program existed for 3 years… It was limited to playoff games in the Superdome against Arizona and Minnesota."

For the sake of argument let's assume this source was telling the truth and the 'Rogers' (sic) offer sent to Payton was only a joke. In that case it seems to me that Vilma and the other players are lying given the all encompassing nature of their denials.

It may be that Goodell will only have to offer up a tiny bit of evidence to the players during their grievance hearings in order to demonstrate that they are full of it. Of course he will want to do so in a way that doesn't put current players or other informers in jeopardy which is always a concern when dealing with possible retribution from violent sociopaths, but I think that he can manage that.

The upshot? A team full of players wondering about who ratted out whom. Not a pretty picture. Expect a lot more personnel turnover for the Saints defence in the years ahead.
05-09-2012, 08:38 PM
Post: #29
phocis850
Administrator


Posts: 5,433
Joined: Sep 2010
Reputation: 42
RE: Saints Bounty Thread
Not showing internal documents of a private corporations investigation is typical.

You won't see anything until it's needed. And at the moment the case is just blowing up even bigger to make the players and coaches look worse.
---

05-09-2012, 08:53 PM
Post: #30
TeamPlayer1
Posting Freak


Posts: 945
Joined: Sep 2010
Reputation: 20
RE: Saints Bounty Thread
(05-09-2012 04:03 PM)

AsylumGuido Wrote: Many of us are just demanding the truth in the form of proof.
Actually, the CBA which includes the players may allow Goodell to decide what is the truth and any lawyers have no input because the players would not have a right to sue.
Let's see how it plays out. Front page material.
---
I love the Falcons and to hell with anyone who doesn't!