NFL Rumor Floating Around Jimmy Graham Has High Ankle Sprain Out 6 Weeks
10-22-2012, 11:04 AM
Post: #61
AsylumGuido
Resident Saints Fan


Posts: 3,227
Joined: Dec 2010
Reputation: 33
RE: Rumor Floating Around Jimmy Graham Has High Ankle Sprain Out 6 Weeks
(10-19-2012 10:41 PM)

AUTiger7222 Wrote: That was me that has the SI magazine from 99.
So, you want to post a picture of that 1999 SI with the bag headed Saints fans on the cover? Here is a link to all of the covers in the history of Sports Illustrated.
http://sportsillustrated.cnn.com/vault/c.../index.htm
It doesn't appear that there ever was cover like that. Interesting.
---
Saints Fan Since 1967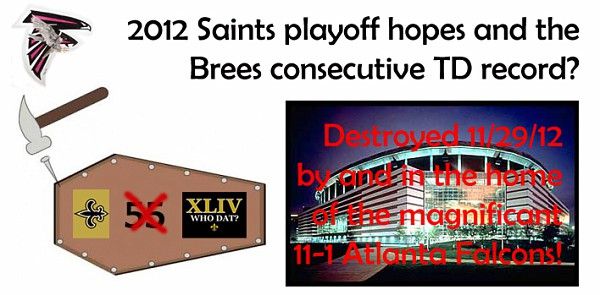 10-23-2012, 09:47 AM
Post: #62
Templar
Senior Member


Posts: 261
Joined: Oct 2010
Reputation: 20
RE: Rumor Floating Around Jimmy Graham Has High Ankle Sprain Out 6 Weeks
10-23-2012, 01:12 PM
Post: #63
Rumor Floating Around Jimmy Graham Has High Ankle Sprain Out 6 Weeks
10-23-2012, 01:28 PM
Post: #64
Templar
Senior Member


Posts: 261
Joined: Oct 2010
Reputation: 20
RE: Rumor Floating Around Jimmy Graham Has High Ankle Sprain Out 6 Weeks