11-29-2011, 02:33 AM
Post: #51
cooperbh
Posting Freak


Posts: 1,263
Joined: Sep 2010
Reputation: 50
RE: Lions and Suh
(11-28-2011 06:57 PM)

Radical Wrote: Just because it happens a lot, doesn't mean it shouldn't be looked down upon any less. There's a lot of inherent problems with people that lead to problems in every walk of life, but just because it's common doesn't mean you let it numb you to what it is.

It should be looked down upon no matter what age you are. Ultimately, it's using a physically violent game as a cover to attempt to cause direct physical harm to someone that goes well and beyond what the game is about. Suh isn't a man for slamming the guy's head into the ground multiple times and stomping on him, nor does it make him a better football player. He should be looked down upon, and until I take advantage of a situation I am in to legally get away with assaulting someone, I have the right to look down upon it, and the same goes for everyone else in the league.

The fact that former team mates of Suh in college are coming out against him, putting it bluntly that he did the same to fellow team members in college, and that he wasn't well liked because of it, only solidifies my argument. It's classless, it's cowardly, and it's a weak reflection upon anyone who supports that kind of stuff. If Suh wants to continue to engage in that and the NFL doesn't step in to handle it with fines and suspensions, then I say opposing players do the same to him, and hopefully in a career ending manner before he does it to one of them.
Can't say it any better than that.
+1
11-29-2011, 03:21 AM
Post: #52
RE: Lions and Suh
(11-29-2011 01:44 AM)

ATLBound Wrote: Ok you say you don't condone it then so be it you don't.

Aside from that we're having a discussion about what Suh did on the Football field in a football forum so of course we're gonna give the opinion that we don't like what we did. And doing those things that are disruptive that I see on the football field and is blatant does affect how I see him as a football player.

I respect his talent, but he is def not on my list of fav players because of what he does, including something done to the QB of my favorite team. I don't see how this makes me a wuss. This is probably what makes it seem like you did condone this because you considered yourself not a wuss because you didn't take his wrongful actions into consideration.

I don't feel it makes me a wuss because I took his actions into consideration about how I view him as a player.
Never called or implied that any of you were a wuss except Coop for needing to use profanity. Still not sure how you still didn't understand that after I wrote what I did. It was actually a dig at the media for keeping it hyped even though there HoF's who were actually worse.
11-29-2011, 03:22 AM
(This post was last modified: 11-29-2011 03:22 AM by Knight of God.)
Post: #53
RE: Lions and Suh
11-29-2011, 10:57 AM
Post: #54
Statick
Dark Falcon Lord


Posts: 18,680
Joined: Sep 2010
Reputation: 5
RE: Lions and Suh
I just watched Suh's rambling explanation for a second time. Wow.

He stutters and acts like a little kid trying to explain to his mommy what happened so he won't get in trouble. lol
---
"TOUCHDOWN! MY GOD, A TOUCHDOWN! WE THREW IT TO HAYNES! WE JUST STUFFED THEM WITH FIVE SECONDS LEFT! MY GOD ALMIGHTY, DID YOU SEE WHAT HE DID? DAVID GREENE JUST STRAIGHTENED UP AND WE SNUCK THE FULLBACK OVER! … WE JUST STEPPED ON THEIR FACE WITH A HOBNAILED BOOT AND BROKE THEIR NOSE! WE JUST CRUSHED THEIR FACE!" - Larry Munson broadcast UGA vs Tenn, 2001

Rest In Peace, Larry. You will be missed.
GO DAWGS! HUNKER DOWN!
11-29-2011, 11:29 AM
Post: #55
AsylumGuido
Resident Saints Fan


Posts: 3,226
Joined: Dec 2010
Reputation: 33
RE: Lions and Suh
It's official. Suh gets a two game suspension.
---
Saints Fan Since 1967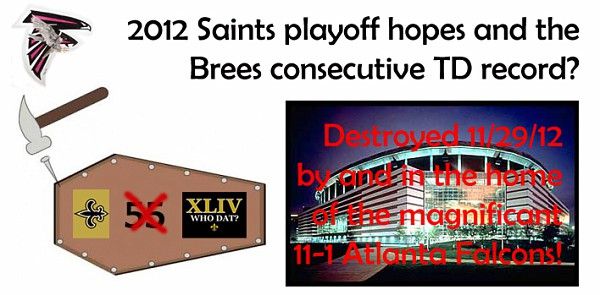 11-29-2011, 12:50 PM
Post: #56
RE: Lions and Suh
11-29-2011, 12:50 PM
Post: #57
RE: Lions and Suh
11-29-2011, 02:11 PM
Post: #58
ATLBound
Posting Freak


Posts: 1,609
Joined: Sep 2010
Reputation: 27
RE: Lions and Suh
11-29-2011, 02:13 PM
Post: #59
RE: Lions and Suh
---
11-29-2011, 03:38 PM
(This post was last modified: 11-29-2011 03:44 PM by Knight of God.)
Post: #60
RE: Lions and Suh
(11-29-2011 02:11 PM)

ATLBound Wrote: Like the guy said on ESPN first take....he gave the "dog ate my homework" excuse...lol
My son gives me excuses like that. I see what he was trying to do though. This is what happens when a good guy tries to play it like he's over the top. He tries to back track. He did the same in college. The story that I have heard is that he was bullied as a youth for his name and his appearance and made a monster of himself to try and cover it. Same as quite a few of us, but still no excuse. He has to get it together. I hope he can salvage his career, but his coach is a butthole too.
Anyone seen the incident where the HC started it with Harbaugh on a "push" that I still don't see? Lose the game win the fight mentality. Normally when a player is off the chain like Suh, they usually settle down based on good coaching (see The Evil Empire), but in this case with more than Suh behaving this way, I say attitude reflects leadership.
See page 7