NFL Before final game, Gregg Williams urged Saints to injure 49ers
04-18-2012, 12:46 PM
Post: #141
pauliwood
Posting Freak


Posts: 2,379
Joined: Sep 2010
Reputation: 28
RE: Before final game, Gregg Williams urged Saints to injure 49ers
(04-18-2012 12:09 PM)

RFlagg Wrote: Week 6. Vitt will make his interim debut in Week 8. On Sunday night football. In Denver.
Sweet, no free pass for the bye week.
---
04-18-2012, 05:28 PM
Post: #142
AsylumGuido
Resident Saints Fan


Posts: 3,227
Joined: Dec 2010
Reputation: 33
RE: Before final game, Gregg Williams urged Saints to injure 49ers
---
Saints Fan Since 1967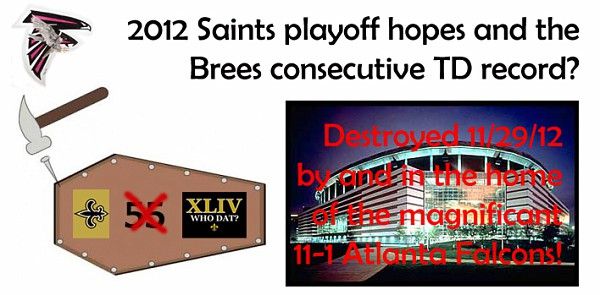 04-18-2012, 08:07 PM
Post: #143
ATLBound
Posting Freak


Posts: 1,610
Joined: Sep 2010
Reputation: 27
RE: Before final game, Gregg Williams urged Saints to injure 49ers
(04-18-2012 05:28 PM)

AsylumGuido Wrote: Another good article on the situation. Read it with an open mind.

SaintsWin: Analysis, Examination, Opinion: Are the Saints Being Railroaded?
Sigh...it's the same thing over and over again. I swear every Saints fans. I will list the excuses, no particular order.
1.) We have seen no evidence - u don't deserve it
2.) It wasn't as long as it was portrayed - it was long enough
3.) Nobody ever admitted to pay for injure - Umm Payton agreed an email was in reference to the bounty and Gregg "fuck you clause" Williams wouldn't apologize for something he didn't do
4.) Goodell is saving his and the NFL's asses - Damn right he is...that's his livelihood. Unfortunately for the Saints fans your team gave him a way to do it
5.) Nothing malicious came of it on the field - Ever heard of people going to jail for intent?
Did I miss anything? For all things holy get over it. The appeal has been denied and the player suspensions seem imminent or maybe they won't get suspended. Either way what's done is done.
04-18-2012, 08:40 PM
(This post was last modified: 04-18-2012 08:40 PM by JDaveG.)
Post: #144
JDaveG
Ἅγιος ὁ Θεός Ἅγιοςἰσχυρός Ἅγιος ἀθάνατος


Posts: 10,515
Joined: Sep 2010
Reputation: 34
RE: Before final game, Gregg Williams urged Saints to injure 49ers
04-18-2012, 08:44 PM
Post: #145
ATLBound
Posting Freak


Posts: 1,610
Joined: Sep 2010
Reputation: 27
RE: Before final game, Gregg Williams urged Saints to injure 49ers
04-19-2012, 03:12 AM
Post: #146
pauliwood
Posting Freak


Posts: 2,379
Joined: Sep 2010
Reputation: 28
RE: Before final game, Gregg Williams urged Saints to injure 49ers
After Katrina, fans of 31 teams complained, after bountygate fans of 1 team complained. the karma has been set right.






























































































(If you think I am implying that the NFL gave the Saints a championship, I am.)
---