Gotta say, I think this comic is appropriate
01-17-2011, 01:39 PM
Post: #1
RFlagg
The Walkin' Dude


Posts: 1,905
Joined: Sep 2010
Reputation: 42
Gotta say, I think this comic is appropriate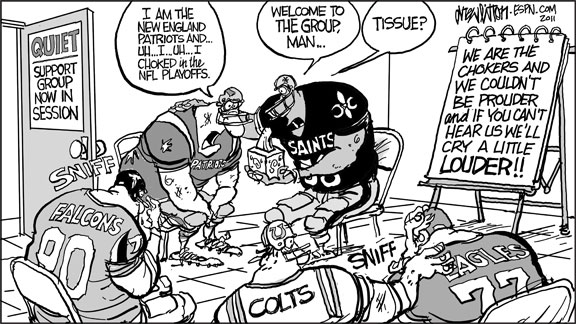 01-17-2011, 01:43 PM
Post: #2
phocis850
Administrator


Posts: 5,433
Joined: Sep 2010
Reputation: 42
RE: Gotta say, I think this comic is appropriate
Amazing how all the biggest thought teams are already out. GB is still in and so is Pitt, but really they weren't expect to go.
---

01-17-2011, 01:48 PM
Post: #3
TomBradyMVP12
Brady = Best Ever.


Posts: 3,609
Joined: Sep 2010
Reputation: 10
RE: Gotta say, I think this comic is appropriate
GB vs. Pitt in the SB. Remember the shoot out they had last year?
01-17-2011, 03:44 PM
Post: #4
RE: Gotta say, I think this comic is appropriate
Actually I can deal with this kind of stuff, we are in fine company. I think back to that Thanksgiving cartoon where a panther, cowboy, bengal and viking were all forced to sit at the kiddie table