12-19-2010, 03:46 PM
Post: #31
Greg M
Super Moderator


Posts: 733
Joined: Sep 2010
Reputation: 9
RE: Game Day Fare?
(12-19-2010 03:30 PM)

The Falcon Jedi Wrote: Catfish is a very oily, greasy fish meat. Im not really a fan of it, but there's not too many good ways to cook that crap.
mighty good deep fried
---
@G_Martin
(05-08-2013 07:56 PM)

Swift Is a Die Hard Wrote: Toilio is not going to amount to much . Just another overhyped AFMB creation lmaoo
Jesus . Guy is 6 8 ' and runs awful routes and rounds them off . He is a back up TE at best
12-20-2010, 02:23 AM
Post: #32
pauliwood
Posting Freak


Posts: 2,379
Joined: Sep 2010
Reputation: 28
RE: Game Day Fare?
(12-18-2010 08:05 PM)

AsylumGuido Wrote: I'd love to hear your game day fests. As you may suspect, we love our food over here.

I'm working up a batch of red beans with andouille and smoked pork sausage. It has a tasso and bacon base.

This is a big game so I am breaking out the gator. I will marinade some to fry, much like you do with frog legs, and blacken the rest and serve with a variety of sauces.

I have to have the standby of Abita beer. Jackomo IPA and Turbo Dog on the menu.

As someone who loves to cook I love hearing others game day fare. What are y'all serving up?
at least he had fancy food to cry on.
---
12-20-2010, 11:26 AM
Post: #33
AsylumGuido
Resident Saints Fan


Posts: 3,226
Joined: Dec 2010
Reputation: 33
RE: Game Day Fare?
(12-20-2010 02:23 AM)

pauliwood Wrote: at least he had fancy food to cry on.

No crying here. So we have to win one at a NFC West site. No biggie. We'll have two straight wins under our belt by then.
---
Saints Fan Since 1967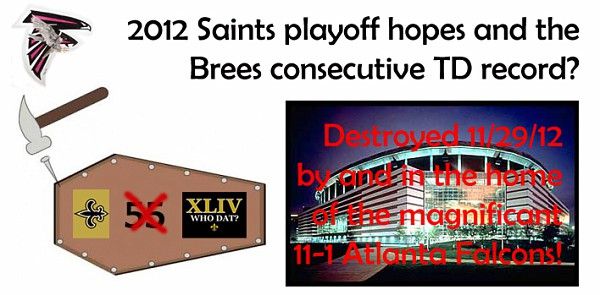 12-20-2010, 11:33 AM
Post: #34
RE: Game Day Fare?