Poll: People of the boards! Did Mike Smith make the right call on 4th down in overtime?


This poll is closed.

Yes
4
14.81%
No
4
14.81%
Yes, but the playcall was terrible.
19
70.37%
Total
27 votes
100%
11-15-2011, 04:19 PM
Post: #1
McUser
Senior Member


Posts: 399
Joined: Nov 2011
Reputation: 7
For The Record
All these media types and fans who are killing Mike Smith can eat it...I for one still love the guy, I'm glad he went for it. I'd rather lose like that Sunday than get torched by Brees when they got it back, OR Sproles on the return. There have been a number of statisticians that backed up the call based off of percentages, besides, he's been pretty much the best (or at least the most consistent) coach in our franchise history. I don't see many people on here giving him crap, but on ESPN, wow. Herm "You play to win the game" Edwards just killed him too. I'll say this, I remember Herm coaching the Jets, he has NO right to call out any coach based off of questionable decision making considering his ENTIRE tenure there was questionable.

I have never felt better about a loss, I'm not sure why. It seemed like we were coming together a bit, on both sides (minus the drops by the receivers). I see us coming on and winning a good bunch of games for the rest of the year and into the playoffs. Especially now that we get to face the Texans without Matt Schaub. I could have the homer glasses on, but I don't care, I love the Falcons, all the players and coaches. Although a certain Offensive Coordinator is really starting to test me.

Sorry just had to get that rant out, any thoughts?
11-15-2011, 04:26 PM
Post: #2
McUser
Senior Member


Posts: 399
Joined: Nov 2011
Reputation: 7
RE: For The Record
11-15-2011, 05:30 PM
Post: #3
AsylumGuido
Resident Saints Fan


Posts: 3,221
Joined: Dec 2010
Reputation: 33
RE: For The Record
I thought the call to go for it was wrong, but I loved it as a Saints fan when they actually tried it. I was thinking they were just going to try to get the Saints to jump, but as soon as they snapped the ball I yelled to my wife, "Ballgame!!", and then the defensive line surged and made the stop.

After the game Smith said that he made the call because Brees had beaten them in the past when he had punted to the Saints in that situation. The problem with that is that every game is its own game and what happened last year should not affect how you make calls in this game. The risk/reward made it a bad call. If they had made it they would simply have a first down at their own 30 with no guarantee that they would still move 40 additional yards into scoring territory on that drive. That would have been the meager reward. The risk of not making it was almost a sure loss since the ball would already be in scoring territory for the Saints.
---
Saints Fan Since 1967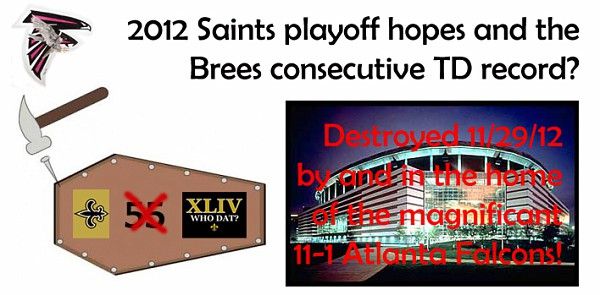 11-15-2011, 06:23 PM
Post: #4
RE: For The Record
I honestly don't have an issue with Coach Smith, but i have an issue with calling such a terrible play with the look of the defense.

Although Deion made a great point on NFLN, earlier when we had 4th down attempts we got them all, so i can understand why coach called what he did, but given it was OT...i think you have to change the mentality.

Only issue with the 4th in overtime. There are many other issues throughout the game, but thats my take on people hatin on Coach Smith.
---
-ROCK CHALK!!!
11-15-2011, 06:47 PM
Post: #5
AsylumGuido
Resident Saints Fan


Posts: 3,221
Joined: Dec 2010
Reputation: 33
RE: For The Record
I was just thinking that I would be really pissed if Sean Payton would have gone for a first on 4th and one in OT from their own side of the field and not trusted his defense, then I just realized that on the prior possession the Saints did have a 4th and one on their own 38 and kicked the ball to the Falcons.
Not sure what this means, but it is interesting. Although, it sounds to me like it is dealing with lack of trust.
---
Saints Fan Since 1967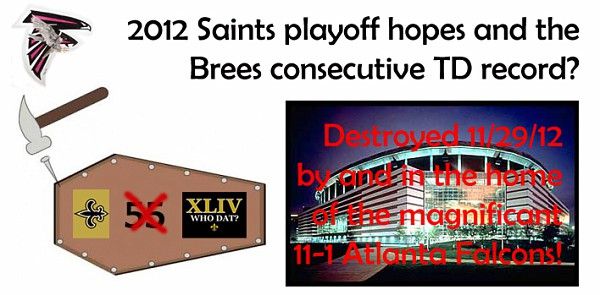 11-15-2011, 07:08 PM
Post: #6
Paprika Neck
Posting Freak


Posts: 1,709
Joined: Sep 2010
Reputation: 17
RE: For The Record
either way you're putting them in field goal range