Falcons Camp Confidential: Falcons
08-07-2011, 01:22 PM
Post: #1
atljbo
Super Moderator


Posts: 12,978
Joined: Sep 2010
Reputation: 28
Camp Confidential: Falcons
Camp Confidential: Falcons
By Pat Yasinskas
FLOWERY BRANCH, Ga. -- Every morning since training camp started, Matt Ryan has walked into the quarterbacks room and seen the same two messages on the board.
They were written by quarterbacks coach Bob Bratkowski, who was not with the Falcons last year. But maybe an outsider's point of view is what the Falcons need to take the next step in a process that's seen them post winning records the past three regular seasons but fall flat when January rolls around and the playoffs start.
"It's kind of those two things that, more so than anything else, are important to us,'' Ryan said. "The one is 'The most important thing you bring to work every day is your attitude'. Great. The second thing is 'It's not so much what happens to you, but how you respond to what happens to you that defines who you are.'"
What happened to the Falcons last year was that they cruised through the regular season. They went 13-3 and claimed the No. 1 seed in the NFC.
"And, then, bam, we just got shell-shocked in the playoffs,'' cornerback Dunta Robinson said.
The 48-21 loss to Green Bay in the Georgia Dome still weighs heavily on the Falcons. They're not dwelling on it but are trying to use it for motivation and growth.
That's why Bratkowski's message about responding hits Ryan so hard. The Falcons have made big personnel moves, drafting receiver Julio Jones and signing free-agent defensive end Ray Edwards. They fit the profile of the "explosive'' players coach Mike Smith and general manager Thomas Dimitroff talked so much about in the offseason.
The physical pieces might be in place. But for the Falcons to take the next step -- winning some playoff games and maybe a Super Bowl -- they know they have to deal mentally with the lingering aftermath of the Green Bay loss.
"Sometimes, you have to make mistakes to kind of push you forward,'' Ryan said. "We need to take what we learned from that game and apply it to this season so we can hopefully go deeper than we have before.''
THREE HOT ISSUES
1. How is the offense going to get more explosive?
It's not as though Smith and coordinator Mike Mularkey have torn up the playbook and drawn up a whole new one. They've done some things really well in the past, but they've made some personnel changes and some tweaks in philosophy in an effort to get more plays of 20 yards or more.
Ryan has the arm to throw downfield, but other than Roddy White, he didn't have a deep threat last year. Jones' presence should change that, and we're not talking just about the explosive plays he will make. Having him should open things up for White and may allow the Falcons to sneak tight end Tony Gonzalez down the field more often. It also allows Harry Douglas to concentrate solely on playing the slot, a position where he can have the most impact.
With all that passing going on, defenses might not be as focused on the running game, which may allow Michael Turner and rookie Jacquizz Rodgers to break off some longer runs.
2. How much will Edwards help the defense?
There's a bit of a misconception out there that the Falcons expect Edwards to come in and suddenly put up 15 or 16 sacks. That's not realistic for a guy who never put up more than 8.5 sacks while playing opposite Jared Allen in Minnesota. Edwards will be playing opposite veteran John Abraham, and it's possible Edwards could get to double-digit sacks.
But the Falcons will be happy if Edwards simply can provide some balance in the pass rush. They've got a good interior pass-rusher in tackle Jonathan Babineaux and are hoping 2009 first-round pick Peria Jerry is finally healthy and can generate some push from the other tackle position. For too long, Atlanta's been relying almost exclusively on Abraham for a pass rush.
Now, the Falcons think they've got four guys who can pressure quarterbacks. If that's the case, you're going to see more mistakes by offenses, and that's going to mean more big plays for guys such as linebackers Sean Weatherspoon and Curtis Lofton and cornerbacks Brent Grimes and Robinson. Edwards doesn't have to come in and be a one-man show. He just needs to play a role, and that will make the entire defense better.
3. Does Ryan really have what it takes to win some playoff games and firmly establish himself as an elite quarterback?
Absolutely. Ryan's been very solid in each of his first three seasons. But the supporting cast always has been lacking in one way or another.
Now, all the tools are there, and the Falcons may turn Ryan loose more than ever. White's made some comments about how the Falcons could be like the old St. Louis Rams when they were known as the "Greatest Show on Turf." That might be a bit of a stretch because the Falcons don't have a running back quite like Marshall Faulk. But, then again, they've got tons of talent, and that should allow Ryan to really shine.
BIGGEST SURPRISE
After returning last season and playing a limited role as a backup, Jerry has been flying around the field in the early part of camp. The defensive tackle has shed the knee brace he wore all last year and appears to be playing with confidence. Rookie Corey Peters did well in a starting job last season, but he was simply a role player. If fully healthy, Jerry has the potential to be a dominant defensive tackle. The Falcons drafted him because he could get penetration against the run and also put pressure on the passer. If he really is healthy, Jerry can create negative plays by an offense and help produce turnovers.
BIGGEST DISAPPOINTMENT
Although the Falcons were happy when running back Jason Snelling agreed to a one-year deal Sunday morning, they're not happy he missed so much time from training camp. Snelling has been the top backup to Turner and the Falcons view him as an important part of their offense. They're making some tweaks to their system and Snelling will be well behind the rest of the running backs in terms of knowing the new parts of the offense. Snelling's absence also allowed Rodgers to get lots of work early in camp and the rookie has made a good impression. Snelling is a power runner like Turner and will remain the top backup in running situations. But Snelling used to be the top receiving threat out of the backfield. Rodgers could take that role away from him.
OBSERVATION DECK
The biggest camp battle is at right guard, where former starter Harvey Dahl left for St. Louis in free agency. Garrett Reynolds has been getting most of the first-team work so far and appears to be the leading candidate to start. Second-year pro Mike Johnson also is in the mix. But one of the most pleasant surprises of camp so far has been seventh-round pick Andrew Jackson. He might not be quite ready to start, but he's likely to make the team and could emerge as a key backup at guard and tackle in the short term and potentially could be a starter down the road.
The other key battle is for the nickelback position. The Falcons aren't going to take the safe route and add a veteran later in the preseason. They're set on letting Christopher Owens and Dominique Franks battle it out in camp and the preseason. The Falcons like both young players and are hoping the competition forces one of them to really step forward.
The most impressive of the undrafted rookie free agents so far has been cornerback Kamaal McIlwain. He's small (5-foot-10 and 175 pounds) and comes from Newberry College. But he's shown great athleticism and is displaying a knack for being around the ball. Those traits have worked out pretty well for the Falcons in the past (see Grimes).
A lot of people seem surprised that the Falcons didn't do anything at tight end because Gonzalez is nearing the end of his career. But maybe the team knew what it was doing. Second-year pro Michael Palmer is having a very nice camp and is showing more pass-catching skills than he did as a rookie. His role could increase.
The Falcons are very pleased with what they're seeing out of second-year wide receiver Kerry Meier, who missed his rookie year with an injury. The Falcons aren't going slowly with Meier because he's fully recovered. He's taken part in every practice and he brings a lot of versatility. Meier is the reason the Falcons didn't bring back Brian Finneran. They believe Meier can do all the things Finneran did as a big receiver -- mainly being a reliable blocker and a dependable possession receiver. But they also think Meier can do some other things, like line up as an H-back or even as a fullback or tight end at times. Heck, you could even see him throw some passes because he's a former college quarterback.
---
08-07-2011, 01:47 PM
Post: #2
Gritz
Super Moderator


Posts: 15,894
Joined: Sep 2010
Reputation: 58
RE: Camp Confidential: Falcons
There wasn't anything about that report I didn't like.
---
08-07-2011, 02:18 PM
Post: #3
featherz17
Posting Freak


Posts: 4,445
Joined: Jul 2011
Reputation: 0
RE: Camp Confidential: Falcons
Nice read. Thanks.
---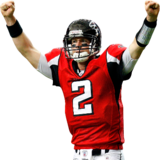 08-07-2011, 03:15 PM
Post: #4
illmusic
Posting Freak


Posts: 975
Joined: Dec 2010
Reputation: 19
RE: Camp Confidential: Falcons
Kerry Meier sounds like he's going to be a great contributor in his career.
08-07-2011, 04:21 PM
Post: #5
phocis850
Administrator


Posts: 5,433
Joined: Sep 2010
Reputation: 42
RE: Camp Confidential: Falcons
(08-07-2011 03:15 PM)

illmusic Wrote: Kerry Meier sounds like he's going to be a great contributor in his career.
Yea, he look really good at Friday Night Lights.
---

08-07-2011, 05:04 PM
Post: #6
Drathdon
Posting Freak


Posts: 2,916
Joined: Sep 2010
Reputation: 54
RE: Camp Confidential: Falcons
If he mirrors Finn, I'd be happy with that.
---
Formerly SBC Falcon
08-07-2011, 05:24 PM
Post: #7
Passepartout
Boston and TX Thoughts!


Posts: 94
Joined: Oct 2010
Reputation: 0
RE: Camp Confidential: Falcons
Bring on 2011 Falcons!
---
Happy Blessed Memorial Day!!
08-07-2011, 07:33 PM
Post: #8
Paprika Neck
Posting Freak


Posts: 1,709
Joined: Sep 2010
Reputation: 17
RE: Camp Confidential: Falcons
I HOPE THE GLOVES DONT MESSS HIS GAME UP
08-08-2011, 08:35 AM
Post: #9
schulian
Junior Member


Posts: 1
Joined: Aug 2011
Reputation: 0
RE: Camp Confidential: Falcons
The Falcons have made big personnel moves, drafting receiver Julio Jones and signing free-agent defensive end Ray Edwards.