11-13-2011, 01:01 PM
Post: #1
AsylumGuido
Resident Saints Fan


Posts: 3,221
Joined: Dec 2010
Reputation: 33
Active/Inactives
Falcons inactives for today: LB Adkins, OT Baker, DE Matthew, S Moore, DT Powell, C Romberg, CB Walls

Saints inactives for today: LB Vilma, RB Ivory, DE McBride, DB Robinson, FB Hall, OT Willis, WR Arrington

James Sanders gets the start at safety for the inactive William Moore, while OT Will Svitek holds down left tackle for Sam Baker.

Some notable actives today include Falcons WR Julio Jones, Saints RB Mark Ingram

According to source, Saints CB Patrick Robinson and RB Chris Ivory will be inactive vs. Atlanta. Lance Moore will play.
---
Saints Fan Since 1967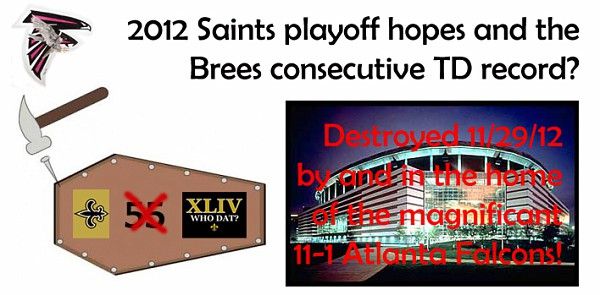 11-13-2011, 01:18 PM
Post: #2
Paulitik
Riser Upper


Posts: 7,814
Joined: Sep 2010
Reputation: 36
RE: Active/Inactives
Isn't Robinson out with a upset tummy? Poor baby's scared.
---
http://www.youtube.com/watch?v=_3CXS04cy...re=related